Demosthenes Literature Selections
For all of our upper level courses, the assigned literature provides background and content for the student's analysis and imitation work, and is highly recommended. Your student will benefit greatly by reading as many of these books as he has time for. Most of the books assigned are available online (links provided below). Click on the images if you prefer to buy the books through our Amazon bookstore.

Assigned Literature for Demosthenes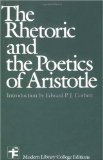 Students read Aristotle's Rhetoric as the basis for many of the lessons in Demosthenes, so this book is really required. It will be best for the student to have a copy he can take notes in, but if you prefer, it is available online.
Public Orations of Demosthenes, Volume 1. Available online here.
Public Orations of Demosthenes, Volume 2. Available online here.
As an official Athenian orator Demosthenes warned his city against the aggression of Philip of Macedon, when he was beginning his conquest of Greece. Demosthenes is famous for his rousing and convincing style, an orator that all classical students should be familiar with.
Utopia by Sir Thomas More.
In More's controversial work, Utopia (1516) the traveler, Raphael Hythlodeaus describes the socio-political system of the fictitious island Utopia. The island is the perfect society, if the perfect people existed: private property does not exist, men and women are equals, there is complete religious freedom and toleration. The book Utopia is pure irony as More questions and makes fun of many contemporary cultural and political issues in the society he lives in. Available online here.
The Scarlet Letter by Nathaniel Hawthorne.
The Scarlet Letter (1850) is the story of Hester Prynne, who after her adulterous affair starts a new life of repentance and dignity. Hawthorne exposes religious legalism, and issues of sin and guilt, purity, and restoration in this work. Available online here.
Till We Have Faces by C.S. Lewis
This novel by C. S. Lewis is a retelling of the ancient Greek myth of Cupid and Psyche. Psyche's older sister Orual is the narrator. She expresses her intense anger and accusations against the unfairness of the gods only to find that she herself has become the monster god she so rages against.
Supplemental Literature for Demosthenes
See also Literature for Herodotus, Plutarch, and Advanced Poetry
Primer: Resources and Literature
Aesop & Homer: Assigned and Supplemental Reading
Diogenes: Assigned and Supplemental Reading
Herodotus: Assigned and Supplemental Reading
Plutarch: Assigned and Supplemental Reading
Poetry: Assigned and Supplemental Reading